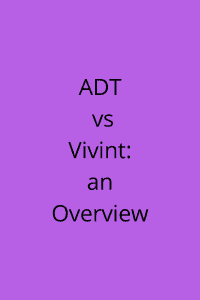 ADT vs Vivint will give you an overview of these two companies in terms of equipment, monthly payment, installation costs, and customer service.
Both the ADT and the Vivint are two of the most widely used security system companies, nowadays.
Although they share some major unique features and benefits, they are quite different in various other fields, as well.
Comparing the two of them can really help future customers in selecting the company that suits their needs best.
ADT and Vivint: common ground
Both the ADT and the Vivint offer customers some special features, including home automation integration and security control via the smartphone with the use of a mobile app.
Another common characteristic of those products is that they both require a professional installation appointment. Those two companies are ahead of competitors in the field of customer service.
They both offer 24/7 customer support via the phone or chat. The equipment included in each company has some similarities, in the following features:
Indoor camerasMotion sensorsSmoke detectors and alarmsGarage doors sensorsFlood and temperature sensorsDoor and window sensors
ADT vs Vivint in terms of equipment
Vivint designs most of the equipment used itself. That can be interpreted as high compatibility.
It is also, a sign that every improvement or issue that arises after you have purchased the product can be easily dealt with by contacting the company directly.
On the other hand, ADT uses equipment that's been made by third parties, like Honeywell or DSC.
Although the equipment provided by those other companies is trustworthy, it is not quite as impressive as with ADT.
Vivint offers a bigger variety of equipment compared to ADT, as well. For example, if you are on the lookout for security cameras or home automation devices, you can find more products by visiting Vivint.
ADT vs Vivint in terms of monthly costs
Depending on the type of package you wish to purchase, the final monthly cost will change a lot. For Vivint, the lowest package is $29.99 per month, while ADT costs around $27.99 a month.
However, those prices offer you only landline monitoring. Landline monitoring has actually a major benefit: that of a stable wired connection.
For those seeking cellular monitoring, the monthly cost rises to $44.99 for Vivint and $59.99 for ADT.
An important difference in the field of cost is also, the fact that every Vivint plan comes with mobile access, while to get that type of benefit with ADT, you need to purchase the $59.99 package.
Installation costs
As mentioned above, both the ADT and the Vivint require an installation fee that costs around $99 for both companies.
However, if you go for Vivint, you will be charged this amount of money for whatever package you wish to purchase. On the other hand, ADT's $59.99 monthly package comes with an installation fee that can reach up to $299.
Customer service
In terms of the whole installation process, both companies offer quick appointments, but ADT answers usually more immediately to your phone call and schedules the whole installation process within the first 48 hours after contact.
ADT also, provides customers with a six-month trial period. Vivint offers only a three-day trial which is considered quite unsatisfactory in helping customers decide if the security camera is really good for them.
The cancellation policy is also, better with ADT. The company requires that you pay 75% of the remaining balance once you cancel your purchase, while Vivint requires that you pay the whole amount.
Another important difference between ADT and Vivint is that Vivint offers customers a no-contract option, provided that you purchase your equipment up front.
Conclusion
Both the ADT and the Vivint security system companies offer high-quality equipment and trustworthy packages in terms of home security. Although they share some common ground, they also, differ a lot in various fields.
In order to choose wisely between the two of them, you need to take into account every aspect of their differences and see what's more important to you.
Check out best cheap home security cameras on Amazon
Generally speaking, if you wish to find a system that offers more variety in terms of its available equipment and that gives you the opportunity of home automation support, then Vivint will usually be a better option.
On the other hand, if you prefer a fast security setup and a much bigger trial period, then you should probably go for ADT.