When we are on the lookout for a security camera, there are a lot of things we should take into account. Amazon Cloud Cam vs Nest will compare these two cameras, so you can know which one to pick.
Two of the most well-known brands in the field of security cameras now a days are the Amazon and the Nest.
Although their popular products with the names of Amazon Cloud Cam and Nest Cam Indoors respectively, present themselves with some similarities, they have some major differences, as well.
Here is a thorough comparison of those two options.
Similarities between Amazon Cloud Cam and Nest Cam
The key similarity between those two types of cameras is that they are both indoor cameras.
That being said, they cannot be used as outdoor security systems.
They are both plug-in and therefore, users do not have to change the batteries every once in a while.
They also, come with a year's warranty. In terms of their special features, they both have 1080p HD, as well as an 8x field of zoom.
They both have another unique feature that distinguishes them from competitors on the market: they have two-way audio.
That actually means that users can communicate with anyone near the area where they are recording.
Lastly, both cameras have eight LED sensors incorporated into their system.
Amazon Cloud Cam vs Nest Cam: storage availability
The Nest Cam offers only 3 hours of free cloud storage, while the Amazon Cloud Cam offers 24 hours of free storage.
However, neither camera offers local cloud storage.
Both cameras have paid options for those wishing to purchase more storage, but the prices differ considerably.
The prices for each option will be discussed thoroughly later on but a general overview states that Nest's prices are quite higher.
Actually, for a 30-day period of storage, customers have to pay around $30 with Nest Cam, compared to the amount of $20 with the Amazon Cam.
Integration-Connected devices
Nest has been on the market for a longer period of time compared to Amazon Cam.
That results in the fact that Nest Cam is compatible with more smart home devices compared to Amazon Cam.
With Amazon Cloud Cam, you can actually have access only to Alexa's support, which is not all that impressive.
On the other hand, the Nest Cam supports the following products:
Alexa Google Assistant Google Home HubStringify
It is also, important to refer to the fact that the Nest Cam can be used along with other products made by the same company, some of which are listed below.
Nest SecureNest ProtectNest Hello doorbell next Yale Lock
Amazon Cloud Cam vs Nest Cam in terms of pricing
The Amazon Cloud Cam offers three different packages: the basic, extended and pro.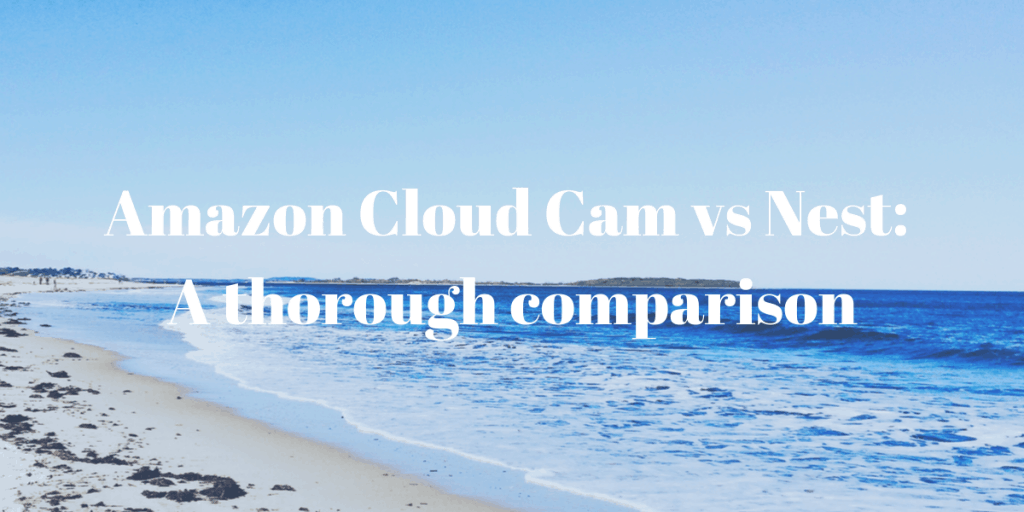 As the package becomes higher, the number of available storage increases and the number of supported cameras increases, as well.
The basic package comes at a price of $$$ per month, the extended version that doubles the storage to 14 days comes at a price of $$$ and the pro version will cost you $$$ per month. Check Price Here on Amazon.
On the other hand, the Nest Cam offers customers 3 alternative plans named after the amount of available storage.
The 5-day plan costs $5, the 10-day $10 and the 30-day package will cost users $30.
The key difference here is that with Nest Cam, you gain access to CVR with every type of plan you wish to purchase.
Do they have an identical field of view?
The field of view is actually one of the most important features of a security camera.
Both the Amazon Cloud Cam and the Nest Cam have a satisfactory field of view, but the Nest Camera has a 130 degrees diagonal field of view, while the Amazon Cloud Cam is limited down to 120 degrees.
Conclusion
Undoubtedly, both the Amazon Cloud Cam and the Nest Cam are two great choices of cameras on the market, nowadays.
Aside from some differences that were mentioned above, as well as the fact that they are available in different colors
The Amazon Cloud Cam is only available in white, while the Nest Cam comes in black- they are both capable of offering your indoor property a 24/7 monitoring and security.
Choosing the best for you depends mainly on the amount of storage you wish to have along with the type of incorporated devices and of course your available budget.