Bosch cameras default password Overview
Most Bosch old IP security camera models have the default password as 'service' and username as 'service' in lowercase.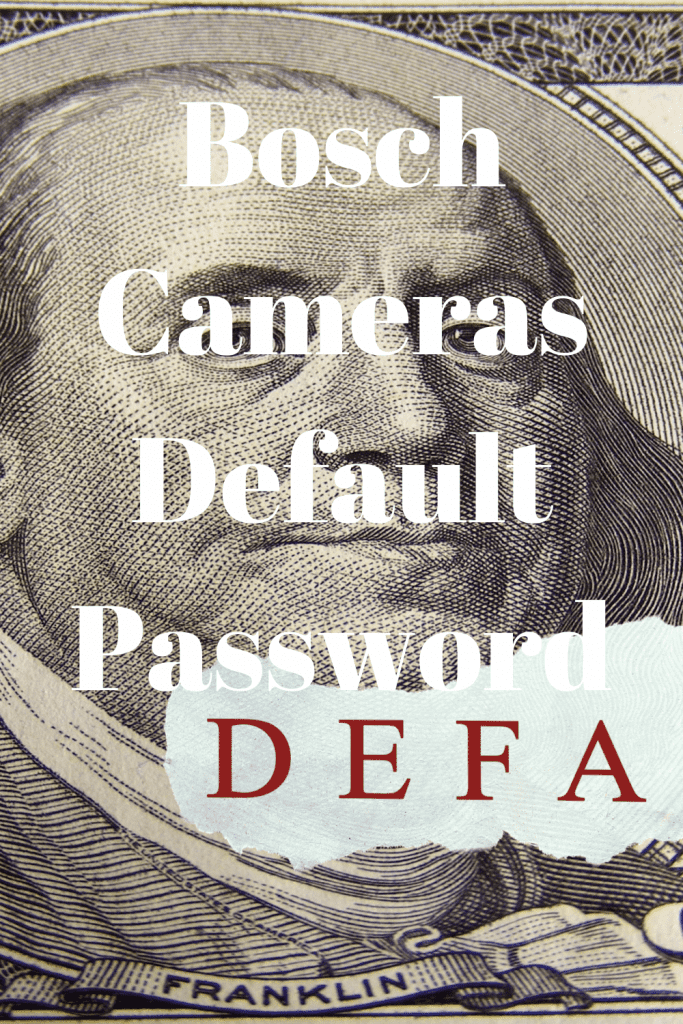 However, if you own a newer generation model, your camera might not have a default password, and you will have to create one the first time you use your camera.
So what is the Bosch camera's default password for your model? Can you reset it? If so, how would you go about that? Read on to learn more about your Bosch camera's default password:
What You Need to Know: Bosch Default Passwords
Technically, most IP security cameras from Bosch do not have default passwords, and you have to set one when you receive your need.
Bosch CCTV security cameras, on the other hand, often come with the following default usernames and passwords:
Username: Dinion, Password: (leave blank)


Username: Admin, Password: (leave blank)


Username: service, Password: service
Pro Tips
It is important to remember that your device will contain three fully inbuilt user accounts. These are:
· Service: This admin account gives you access to all configuration settings and menus.
· User: This account is advanced and gives you access to camera control and recorded and live video. You will not have access to configuration settings.
· Live A basic account that only gives you access to live to stream.
Resetting Your Bosch Password
If none of the default usernames and passwords give you access to your unit, you will need to reset your camera.
The easiest way to do this is to push the reset button for approximately 7 seconds or remove the unit's battery from the mainboard. Alternatively, you can remove password enforcement from your camera unit. You should note that this move significantly lowers your system's security and should be a last resort. Here are the steps:
Open My Devices and select your camera. Right-click, then choose Set Session Authentication. Next, enter your password. These steps should help you authenticate your unit.
From the top right corner, select Service.
Open the Compatibility tab under Service and check Disable Password Policy and Access Protection Enforcement.
Click Save. Your unit should reboot automatically.
Now, check only the Access Protection Enforcement option under Compatibility. This should reboot your unit again.
Read the security risks and click YES, if you accept.
Open the General tab and select User Management, then edit your new password.
Don't input any characters in the boxes. Just click on them or choose Use Empty Password.
Select OK, Save, them Yes, if you accept the risk.
When this process is complete, you will no longer require a password to access your unit. You can also opt to just change your default password to the one you can remember.
Tips for Stronger Password Protection
When implementing a new password for your unit, consider the following pointers:
Use a password that is between 8 and 12 characters long.


Include a special character and at least one number.


Use both lower and upper case letters.
Conclusion
If you still cannot reset your admin password, contact Bosch and share your device address for more help. They should be able to use a master password to reset your device.
Once you reset your Bosch camera's default password, it is highly recommended that you upgrade your camera's system to the latest version. Remember to back up your data fully before you initiate the upgrade sequence.