Many of you have heard a lot about changing your old phone into a security camera. In this article, Turn Old Cellphone Into Security Camera, we will look at how that is possible and some of the things that are required for the process to be successful.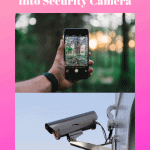 For you to achieve this, you are required to have an android phone that has a functional front or rear camera and an application for security.
You are also required to have charging cables that will provide enough power supply to guarantee continuous recording.
For remote viewing, you need to have another android phone, a computer or web browsers to receive or access motion alerts and other features.
There are a number of factors that you can consider before turning your phone into a security camera and they include. Check out Spy camera on Sale here.
How to turn a cell phone into a security camera (Steps)
Are you looking for a security camera, but don't want to spend a huge sum of cash on a complete system?
Well, if you have an old cell phone sitting around, then you can actually turn it into a security camera, and it isn't even that difficult to do.
On this page, we are going to look at the most popular method when it comes to how to turn a cell phone into a security camera.
Step One: Is your phone suitable?
The method we are going to discuss on this page should work with almost all smartphones. However, it needs to be a cell phone produced within the last few years.
It must have a camera on it. You can use either an iPhone or Android phone for this method. This method will not run on phones running the Windows cell phone software.
Step Two: Installing the software
There are a few different software options available for how to turn cell phones in security cameras, but we recommend that you use a piece of software called 'Alfred'.
It is a free download, but if you want to make use of all the features in the software beyond your trial, then you are going to need to pay.
However, we assure you that the cost of the full set of features will be far more affordable than purchasing a complete camera system.
You will need to install the software on both your new and your old phone.
Step Three: Connect your phone to Wi-Fi
Your phone will need to be connected to Wi-Fi in order to ensure this method works properly.
You can use mobile data, but since you are going to be dealing with videos here, the cost of mobile data is going to be wildly high.
How you connect your phone to Wi-Fi will be dependent on your phone, but it is likely that you already know how to do that, so we won't dwell on this stage too much.
Step Four: Setting the software up
Start with your new phone (i.e. the one you will be using to view the Alfred stream)
Go through the signup process. When asked if you are going to be a 'Viewer' or 'Camera', select 'Viewer'. You will then be asked to sign in to your Google account.
Now, get your old phone (i.e. the one you will be used as a camera) and select the 'Camera' option.
Sign in to the same Google account to ensure the two of the phones are connected up properly.
You can then play around with the settings on each of your phones to see how Alfred works.
However, do bear in mind that some features will be locked behind a paywall.
However, you will be surprised at just how much you can do 'for free'.
If you do not want to be blowing through a lot of battery, then you should at least select 'motion detection'.
Step five: Setting up the camera
The next step is to set up your camera. Position it however you wish. You may need to lean it against a wall.
You will also want to ensure that it is close enough to a PowerPoint that you can leave it on a continual charge.
You may need to use an extension cord for the power supply here. If you want to make your system a bit more sophisticated, then you can purchase 'holders' which are built for using your phone in the car but will also stick to your walls fairly well.
Step six: Testing the system
Once everything is set up, you can test the system. You may need to make small readjustments to the camera to ensure you have the perfect view.
After that, just leave the old phone on charge and you will also have a security camera in place.
Remember; if you are looking into how to turn a cell phones into a security cameras, Alfred is not the only option available on the market.
There are other pieces of software available, but Alfred is perhaps the most popular. You may want to test out a few of the available options to ensure that you end up with something that is perfect for you.
Choose the right Android app for security
Out there, there are many Android security apps that can help turn your phone into a security camera such as Alfred, AtHome Camera, Presence, Manything, Salient Eye as well as Home Security System.
Be careful when selecting the best and this can be achieved by looking at the reviews of each on the internet.
Look at the operating system of your phone
We have already mentioned that we can use the apps. And it is important to check the comparability of the apps that you selected with your phone.
Most of the apps have a minimum requirement of the operating system required for them to run.
Check your phone and the requirements of the app and see if they are compatible.
Video storage for Android
There are some of the android apps that allow the phone to record the actions to the cloud and this comes with monthly subscriptions.
The video recording happens 24/7 and this means you need enough storage. Before starting the process, always know where you will store the videos in case you need to retrieve them in the future.
There are other considerations that you need to look at such as power supply for the android phone.
The phones have to be fully charged or the charging system should be running at all times.
You also need to have multiple places to view your videos be it laptops, other android phones, or even web browsers.
It is one of the best ways that will help you to reuse your old android phone or tablets.
By following the above-mentioned tips and considerations, your old phone will be of help to you.
How can I make my phone camera better?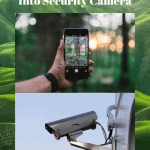 Once you follow the right procedure and with the required settings. There are a lot of tips that will enable you to improve the performance of your phone camera.
You may be having a phone camera that is pretty crummy but by following these guidelines you will make it better.
First, you need to do your shooting at high quality. In your camera settings, check that you are shooting at the maximum resolution.
Remember to turn off the digital zoom and avoid the chances of blur which occur due to slow shutter speeds.
You should also make use of the apps that add quality to your Android camera.
How can I monitor my CCTV on my phone?
If you need to view the CCTV cameras from your phone, you need to have a lot of things for that to be successful.
First, what you are required to have is a router, some basic knowledge of the configuration of the network, and a straight cable.
You need to properly set your camera or DVR up with the router, create a Wi-Fi, go to your phone's operating system and check if the camera phone is available.
For you to view the CCTV on the phone, you need to connect the phone to the Wi-Fi you have already created.
The second step might be similar to the first but you need to make some configuration.
This can be done by doing port forwarding prior to accessing your camera.
There is what we refer to P2P technology that eliminates port forwarding constraints.
You only have to link your P2P device to the active internet once you've enabled the P2P from your camera or DVR. By finishing this, you can be at any place and access your CCTV just from your phone.
What is the salient eye?
Previously, we had discussed the Android security apps and the salient eye was one of them.
It is one that can turn your spare tablet or smartphone into a CCTV camera. It uses the camera of your phone as a motion sensor hence capturing photos of the environment at home or any place where you put it.
The app can be set to work as in sounding a loud alarm once it detects motion.
You should note that the app is offered for free on Android phones but there can be charges in other devices such as iPhones and iPods.
Can wireless cameras work without Internet?
Wi-Fi can be the source of your internet connection and it is true that wireless cameras can work without it.
Most of the professional cameras don't have the option of Wi-Fi but they only have the Ethernet port.
They can work by footage recording since a security camera that has a rechargeable battery can record motion as well as sounding alarms.
Manufacturers produce cameras that have their own wireless frequency but one can as well hardwire the security camera.
Additionally, they have an SD card slot where you can mount a card that will store the recordings.
Why do some security cameras shoot low-quality pictures?
There a number of reasons that can make the security cameras have poor quality pictures.
These issues should be known to you before you go to purchase a camera for your home. The cost of the camera can be one of the reasons.
A good camera should have a decent resolution, acceptable frame rate, compact size, and an excellent dynamic range in situations of low light.
Mostly, the cameras are used as a deterrent and not as a device for collecting evidence. It is, therefore, your obligation to know why you want to buy and what type you will buy.
Conclusion
From the article above, we have looked at the ways in which you can turn your old phone into a security camera. Check out best cheap home security cameras on Amazon
This can only be possible if you carefully follow the right procedure for the installation.
Do not forget to have all the requirements such as the power and cables for power supply.
Look at the type of phone that you have and find out whether it is compatible with the type of security android app of your choice.
There are a number of things that you can do to increase the quality of pictures and footage that your phone takes. Click here to check out this tiny Spy Camera on Sale on Amazon.
Ensure that you work on the light effect as well as taking photos at the highest resolution in the camera settings.