Cielo Breez Review
Cielo is a company in charge of marketing products for intelligent air conditioners related to what is now known as the Internet of Things (IoT).
These are used through Wi-Fi and usually have built-in ecological systems.
Depending on the country where you reside, a different heating or cooling system will be used in each home or use heat pumps or window or split air conditioners.
However, since almost everything is currently connected to the network, the best option is to use Smart Controllers.
Cielo Breez
It is an intelligent controller used for an air conditioner with remote control using Wi-Fi technology.
It works more efficiently if it is at a visible angle to the air conditioner.
It is powered with a USB cable.
As for the hardware, it has an LCD screen where you will see the data of the Wi-Fi signal, temperature, and humidity of the room, but when the air conditioner turns on, it will show its temperature.
Also, it has two touch buttons to raise or lower the temperature, although sometimes they do not respond correctly.
To use it
Cielo has its application which must be linked to a mobile device.
The app will ask for an email account and choose the device used to connect to its Wi-Fi network.
Now, so that the mobile device can connect to the air conditioner, the application will ask for the remote control to emulate it.
The app allows access to a set of options to configure and control the air conditioning from anywhere.
There are two other devices of this type:
Cielo Breez Eco.Cielo Breez Plus.
Aesthetically they are different from Cielo Breez. In the case of Cielo Breez Eco, it is usually cheaper. The Cielo Breez Plus is superior because it allows access to all the air options, even without being connected to the Wi-Fi.
Both have similarities, have on and off options, save energy, and set the temperature at a specific time.
These are very smart and modern devices that show the future.
The ease of being able to control the state of turning off and on the air conditioning and all its functions from anywhere is an aspect that begins to take importance in many homes.
Cielo Breez is not a perfect device, but it has excellent features.
The Plus version may be a better option, even above the conventional controller.
Smartening Up Your Air Conditioner With Cielo Breez Review
This Easily will help you to learn more about one of the best air conditioner review.
Today, control your AC smartly, will be one of the cool things to do.
Depending on where you live. Most houses may develop with its relevant heating and thermostats in intellect or no longer.
Even in properties that have a completely ducted device.
By getting a small expansion, this will achieve like a much bigger garage. This will be an additional room.
Or a visitor condo may require you launch different alternate options for heating and cooling.
Ductless methods, no matter if they're breaking up air conditioner instruments, window AC, portable or flooring standing devices.
Or warmth pumps, are the go-to solution then. But in a world that's more connected than ever.
The current one leading drawback in comparison to thermostats: they cannot be without problems retrofitted for automation and smartphone manage.
Many corporations have tried to clear up that issue by effortlessly making a WiFi-related far-flung substitute.
In case your ductless equipment has a remote, odds are you can mimic the same InfraRed commands through another gadget and it'll answer to them.
I even have come across a few brands that have tried to try this Sensibo, Tado, Melissa, AirPatrol, AmbiClimate, Cuby, to identify just a few.
But there became at all times whatever thing stopping me from buying one of them.
Then I was provided the opportunity to review the Cielo Breez.
Like most of you, I hadn't heard of the business nor the gadget before, so I did my research.
On paper, it hit loads of correct notes, together with Google Assistantdomestic compatibility, so I was intrigued. Study on for my findings.
In this assessment, I will be able to exercise the note AC to refer to the ductless unit I am controlling with the Cielo Breez.
That's as a result of I actually have a breakup AC unit. But take into account Breez works with many different types of ductless systems.
That you would be able to assess if your remote is compatible here.
Hardware
Firstly seem, the Cielo Breez looks like a small historical digital picture body with its granulated liquid crystal display and angular buttons.
The unit has white plastic all over the place. Nonetheless, it's shiny on the entrance and matte on the aspects and returned.
The rectangular form is much more accentuated by way of the very sharp angles.
But the unit itself curves up a bit toward the backside.
Something concerning the design screams early to mid-2000s for me.
Perhaps or not it's the ridiculously massive buttons or the incredibly cheap monitor.
Most likely or not it's the intellectual plastic or the overall sparkling.
The lower back is even more elementary than the entrance: there are just a few regulatory inscriptions and a single MicroUSB port for vigor.
I select the universality of the latter over some proprietary energy input.
Cielo ships Breez with two how you can install it: a wall mounting equipment with screws and or 3M tape and a desk stand.
The desk stand would make extra sense in case you can't easily disguise the cable for your wall.
Besides the fact that children, you should have a flat floor inside proper latitude of the AC you're attempting to manage.
Despite the lengthy latitude and vast-perspective attain of the InfraRed blasters.
Breez did not work reliably once I put it on a low television desk, about 45deg to the side and four meters far from my AC.
If I manually tilted the stand up a little, it would develop into more legit. However, on the laid-back position it comes with, it turned into a bit too a good deal.
It truly is why I opted to stay the wall mount on the balcony door's casing, dealing with the AC.
In that place, it has been flawless and hasn't overlooked a single signal.
In standby, the monitor shows the room circumstances temperature and humidity.
But when you turn the AC on, it switches to monitor the temperature of the AC.
The contact buttons under the reveal will let you lift or reduce that with no need to attain for the far off or your mobile.
By default, the screen stays on as long as the Breez has energy i.e. all the time.
But you could flip it off from the app. Alas, there isn't a manual brightness setting.
So you can not dim it if you choose to evade retina-searing LCDs within the center of the evening.
Setup
You download the Cielo app linked above on your phone after you plug the machine in. There may be an iOS app too.
And begin by using developing a chronicle.
Thankfully, that you can sign up with Google or FB as a substitute of trying to bear in mind a further username and password.
Then you tap so as to add a brand new device which.
As with all vivid home equipment, requires you introduce Breez to your WiFi network and look ahead to it to connect.
Now you should personalize your Breez to your ductless unit.
That's carried out with the aid of telling it which far away you got.
Remember, Breez mimics the faraway. Cielo has a protracted list of suitable remotes for you to talk to to make certain your unit will work with it.
In my case, I have an LG AC with the far-flung AKB74955603, but that model is never notably listed.
However, there's a familiar AKB-xx Celsius that works simply wonderful.
Once it really is achieved, the AC with its name I chose effortless Breezy, hah indicates up in the record of devices within the Cielo app and you can inaugurate the usage of it.
The entire method of getting the Cielo Breez out of its box, mounting it, and setting it up within the app took under ten minutes.
I appreciate items like this that do not require loads of fussing around.
Android Application
The Cielo home app is more or less smartly designed with many cloth Design facets and incandescent icons and toggles.
But some pages feel a little out of the location with tiny fonts or comically enormous icons.
The main display shows a home photo and your record of gadgets with an on-off toggle and zones on the grounds that I actually have one device.
I did not installation zones. The side menu has lots of objects, but you simplest deserve to study domestic, Profile, and Settings.
The latter allows you to activate and off notifications for the app and… it really is it.
Gadget Options
Tapping the configuration icon in a device's card rolls up a menu of Breez-selected alternatives.
Which you can rename the machine and circulate it to another zone, trade which equipment it controls or the WiFi network it connects to.
Customise the screen image and turn it on off, alternate the up-down buttons' touch sensibility or disable them.
View your Breez's guidance including MAC tackle and firmware, and delete it from your legend.
AC Controls
Tapping the card itself opens up all the controls concerning your unit.
For the reason that I am the usage of my Breez to manage an AC. I get an interface tailored for that gadget classification.
The backside bar rapidly switches modes from cool to dry, fan, and warmth.
Besides that, you get an on-off button, a circular slider for the temperature, textual content showing the existing room circumstances.
And two buttons for controlling the swing place and fan pace.
The former failed to work with my unit. However, the latter does let me change the pace.
Visually, the icons and typography are a bit over the top.
However, the colors are very exceptional to rapidly differentiate the mode my AC is operating in.
Scheduling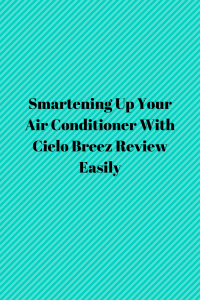 Scheduling will help you to save energy by relocating it to the eSaver tab on accurate.
You get a listing of counsel for saving power and money with Breez, for doing preservation and changing the AC's filter, and two scheduling options: time and location.
Numerous time schedules may also be set all the way through the week and day and instantly toggled on and off.
I handiest verified them briefly as my current work timetable is erratic. They worked competently.
That you would be able to also set up region geofencing so the Cielo Breez turns the AC off in the event you circulation out of the zone. And on should you're a neighborhood.
Since the weather has been rather unpredictable in Lebanon recently rain and bloodless someday, scorching warmth the other.
I did not have tons opportunity to test geofencing as I had no need to keep it enabled.
Nonetheless, it's pleasant quick-witted the AC would turn off may still I go out and neglect to do it myself.
Records
The third tab is for the background of utilization and temperature across distinct time spans: 1, 7, 30, and 90 days.
It be a pleasant option to retain music of how lengthy the AC has been on and at which temperature.
Timeline
Ultimately, the fourth tab is the timeline of movements performed with your Breez.
It has all online-offline connection statuses plus the alterations you could have made through the app yellow profile icon, Google Assistant home icon, or the AC's common faraway blue icon.
It is a principal option to keep tune of who modified what when.
Internet App
The enterprise additionally offers a Cielo World web app for enterprise utilize in case you're in can charge of managing distinctive AC devices for a large enterprise.
But I was capable of the signal into the website. And consume it even with my standard single consumer single-unit narrative.
It's lots harking back to the app and clicking Let's Dive In opens up a very equivalent interface where you get all your gadgets and controls.
Radiant Domestic Integration
Cielo presents integration with both Amazon Alexa and Google Assistant, however, I may focus on the latter right here.
It works as an instantaneous domestic control equipment. So you add it by means of opening the Google home app or Assistant settings, going to domestic handle, tapping the + icon on the backside appropriate, picking Cielo shining domestic in the alphabetical listing, and logging in together with your fable.
You then supply entry to Google and you're all set. Your Breez gadget will definitely work like a Nest or any other thermostat.
It shows up within the checklist of domestic control contraptions where which you could assign it to a room and change its nickname.
It additionally integrates for your Google Assistant routines.
And you can without difficulty handle it from any Assistant machine, be it your phone, home, wear a watch, or greater.
Cielo has a listing of commands that work with Google home. But I wasn't in a position to correctly set off a few of them.
Turning off, making it warmer colder, asking concerning the temperature of the room.
It's in or the temperature that it is determined to, all of those are possible.
But I hit somewhat of a snag when I attempted changing modes.
If I say the notice."AC," it knows I want the cool mode. If I exploit the be aware, thermostat,"
It may also be both cool or warmth and I can ask too. Set the thermostat to warmth mode.". But I could not discover a method to set the dry or fan modes by means of voice.
I would at all times get." that mode isn't purchasable for the convenient Breezy."
Atmosphere a specific temperature is additionally just a little hit-and-omit.
Sometimes I get the accurate temperature I ask for. However, different times I get a little of a distinct temperature.
Within the video below, inquiring for 25 receives me 25, asking for 22 receives me 20.
At last, I realized to depend on hotter cooler. Which circulation in 3-diploma increments, to get in the ballpark of the temperature I need.
In widely widespread exhaust
Youngsters I spent a couple of lots of words describing the Android app.
I have to confess that after surroundings everything up, I barely touched it.
The Google domestic and Assistant integrations of Cielo are so convenient that I hardly resorted to the app.
And I certainly not felt the deserve to expend the huge on equipment buttons.
In the past few weeks, I pulled up Assistant on my mobile and asked it to activate the AC a couple of times earlier than arriving domestic.
It's simply heaven to step into a groovy living room after being out within the scorching warmth.
I additionally spend the Google domestic around my condominium to manage the AC.
So I will be able to flip it on while getting ready a meal and discover the front room already relax by the time we're able to eat.
Or exchange the temperature if it gets too cold or scorching, or turn it off after we also executed.
Moreover, or it's past effortless, but it surely's also very budget friendly if you are the sort of person who forgets their AC on when they stroll out of the condo.
Or who leaves it on at an extreme temperature. Because they don't are looking to stroll as much as the remote and change it.
Keep Reading Smartening Up Your Air Conditioner With Cielo Breez Review Easily to learn more.
It helped that I had notifications became on for the app.
So each state becomes logged and that I could easily hold abreast of alterations made to the AC devoid of opening the app.
In all probability, the ultimate function of the Cielo Breez is that I should not have to make an effort to use it to benefit from lots of its points.
On the other, in contrast to many sparkling AC solutions from different companies, Cielo does not say you should definitely stop using the far off to steer clear of conflict with the fame of the AC.
In its place, Breez has InfraRed receivers as well, so in case you or anybody across the condominium makes use of the commonplace remote to handle the AC.
It catches that sign and maintains the state synchronized within the app and on its display.
It felt a bit magical the primary time I noticed it: within the video below, that you could hear the AC which is behind the camera beep because it responds to the commands.
But additionally, see Breez's screen mirror whatever thing is decided on the far-flung.
Please word though that you simply do not deserve to point the remote at Breez.
That you may element it on the AC as at all times and Breez will still trap the sign beside the fact that or not it's on the contrary route.
This synchronization means that your utilization stats should at all times be correct.
Keep Reading Smartening Up Your Air Conditioner With Cielo Breez Review Easily for more info.
All adjustments also demonstrate up in notifications and in the timeline. and eventually.
The app is always displaying the correct state and never difficult you with the aid of announcing the AC is on when it's basically off, or the wrong way around.
After three weeks with the Cielo Breez, I even began looking at the same unit for my bedroom's AC.
Within the lounge, our presence and AC usage are elegant unpredictable we have a pleasant sea facing balcony that negates the need for an AC some evenings.
So the schedule characteristic is near pointless. However, in the bedroom, being in a position to set the AC to switch on earlier than we go to bed.
And then elevate the temperature a little later so it's no longer very bloodless all the way through the evening can be most beneficial.
I do despite the fact miss a better brain in Breez. The device already has sensors for temperature and humidity.
It could entry my region if I provide the app permission.
And it knows when I turn the AC on and once I do not, plus which temperature I set it to.
It should gain knowledge from these patterns, and if no longer predict my utilization fully.
Then it will at least no longer turn the AC on if the room temperature is within a definite proper range, even with any time agenda or geofencing. Regrettably, it does not take note of those complicated cases.
I might additionally admire notifications of overutilization.
If my AC has been on for 24 hours straight or any threshold I see fit.
A little nudge to ask if I forgot it or if I, in reality, want it on would be welcome.
And eventually, I would like a distinct user guide in the app: with voice commands, my husband can effortlessly control Breez.
However, he would need access to my fable if he desired to set up the app.
Price and Conclusion
Dwelling in Lebanon potential that it rarely receives very cold, exceptionally on the coast where I live.
However, it can also be rather hot in summer. Most of us deploy break up ACs in our houses.
And considering the fact that shimmering ACs are a rarity.
Nevertheless, automating the dumb" ones both requires we spend a Zigbee Z-Wave swap or one of those incandescent AC add-ons.
The former requires a unique hub and only has on off capacity, the latter is a more robust solution.
And Cielo's Breez takes it a step further by presenting correct synchronization with the far off.
Google Assistant and Amazon Alexa integration, and a liquid crystal display screen to view the existing situations.
In comparison to equivalent gadgets from other brands, Breez has an upper hand.
Keep for the inability of IFTTT guide and is in a similar way priced in the $99 latitude.
But here is the place the query of the cost comes into play.
If you're best attempting to find the convenience of turning on your AC or warmth pump remotely earlier than you get domestic.
Plus the usage of voice instructions to control every little thing, then or not it's a novelty merchandise.
However, one which won't break the bank if you come to a decision to buy it.
Youngsters, if you want voice controls for an aged adult or somebody disabled for your residence.
Then the fee is definitely justifiable. Or if you commonly overlook the AC on an exit of the condominium.
Or flip it to an extreme temperature earlier than you go to bed and go away it at that the whole night.
Then the Cielo Breez would save you greater than $ ninety-nine in power expenses over time with the aid of turning off the AC with geofencing and environment schedules to swap to a reasonable temperature throughout the evening.
Purchase this amazing apparel at Cielo Wigle and Amazon at a very low price.
Purchase this amazing apparel at Cielo Wigle and Amazon at a very low price.