Zosi default password Overview
Have you just bought a new Zosi camera but cannot figure out the Zosi default password? Customarily, the default login details for old generation Zosi recorders were empty (password) – leave the section blank – and admin (username). Newer models don't come with a default password for the available admin accounts because you must set one yourself when you first use the unit.
This means that the default username and password will be the ones you set yourself. However, if you lose this password – or the default password for older models – you can reset it in no time at all. Read on to find out how.
Can You Reset Your Zosi DVR Model?
Whether or not you can reset the default password for your Zosi camera or DVR will depend on the type of model you own.
You can find out your DVR model by reading the sticker found on the bottom part of your recorder. Remember that some Zosi units are sold under different brand names.
You can usually reset these if their interface is not too different from the Zosi interface.
Zosi models for which you can reset the password include: ZR04PM; ZR04PN; ZR16JK; ZR04FN; ZR08AN; ZR08LS; ZR04RM; ZR16ZK; ZR04RN; ZR08FN; ZR04FM; ZR16LK; ZR08LN; ZR08KN; ZR08KS; ZR08QM; ZR04LM; ZR16QK; ZR08AM; ZR04LN; ZR08LM; ZR08QN; ZR08RN; ZR08ZM; ZR08KM; ZR08ZN; ZR08FM.
If you own a rebranded model, such as Anlapus, you can reset its password if it is one of the following: AR04JD, MLF08T; ZR04LS; QQ08P; ALG16TV; ZR04IS; QK08P; SPG04T2; ZR08IS; SKG08TV; SPG04T4; SIG08TV; SMG08TV; SLG08TV; PQ08W; SLF08T8; SPG08TV; AR08IS.
For other models, you might need to call your supplier or the Zosi service desk for help.
Warning:
If you buy a new Zosi DVR and find that it already has a password, you should contact your supplier or seller for clarification on previous ownerships. Since new models don't come with a password, finding one could find that the DVR was previously owned or used by another person.
It could also only mean that the store owner set up the unit to be practical, although this is rare.
Resetting Your Zosi DVR Password
Resetting your Zosi DVR password should take no more than 10 minutes. The steps are as follows:
Start by downloading the Zosi Password Generator app or SDP app from Google Play or App Store. This is free a password generator that will help you reset the password on your unit.
Next, find the QR code on your Zosi unit. It can be found on a sticker underneath or atop your DVR and it contains a unique UID or ID for your unit from the manufacturer.
Lastly, scan the unit's QR code using the app you downloaded in step 1. Alternatively, you can input the ID manually although scanning is faster and easier.
Scanning the Reset QR Code
As mentioned, scanning the QR code on your unit is faster and easier than entering the ID manually. If you elect to go this route, tap "Start Scan QRCode" on the SDP app and allow it to access your phone's camera when asked. Point the open camera to the sticker on your unit and scan the QR code.
Once the SDP app is done scanning, it will generate a master password (super password). Open the login screen and enter the username as 'admin' and input the master password you have generated. When you click login, you should be able to access the unit.
Alternatively, you can enter the ID into the app manually by activating the HandWriting Input option and typing in the ID. This option is viable if your camera is spoiled or the sticker is blurred out or illegible.
Creating a New Password for Zosi
After you reset your Zosi DVR, the username will remain 'admin' and the password will go back to 'blank.' It is highly recommended that you create a new Zosi password to protect your DVR. You can do this in the following three simple steps:
· Open User Management and create a new strong password.
· Include a combination of symbols, numbers, and letters.
· Don't enter anything under Old Password but input your new one twice.
What If You Can't Reset Your Password?
If you have tried all the methods in this guide so far and still cannot reset your password, your only available option is to contact the manufacturer or seller. The seller can offer support and contact the manufacturer to ask that they reset your unit.
Alternatively, you can contact Zosi yourself and give them proof of purchase and your unit's serial number. They should help you reset.
Conclusion
Overall, the steps in this guide will help you reset or change the Zosi default password for most Zosi DVR models.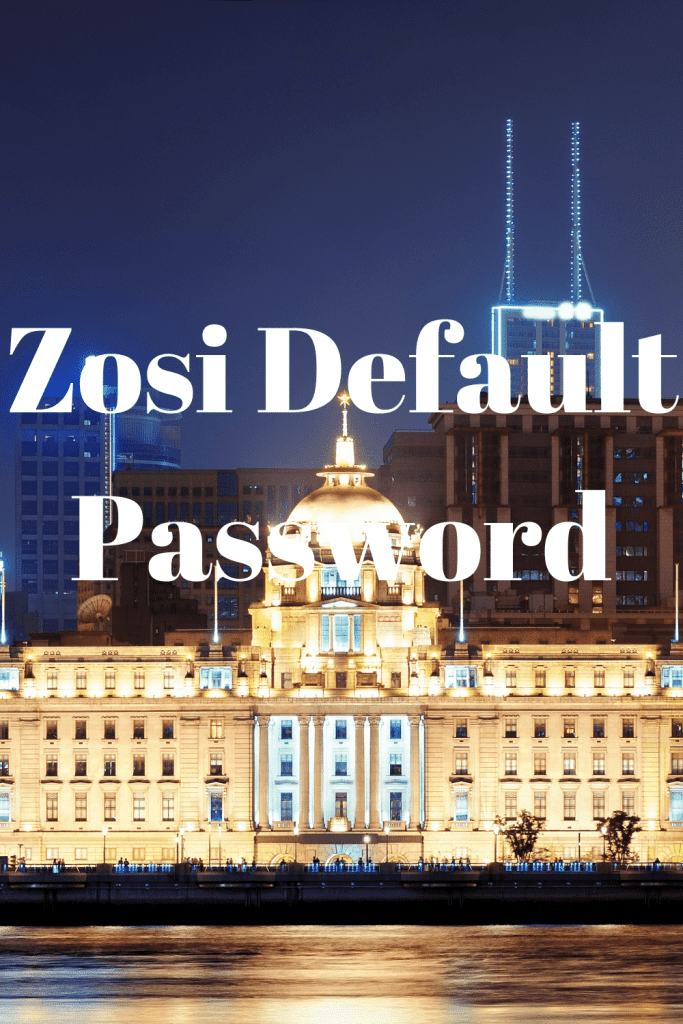 You may face some hiccups, however, when trying to install the Zosi Password Generator app. The key is to use the right platform for your phone's OS, that is Google Play for Android and App Store of IOS phones.