The 6 Best Password Managers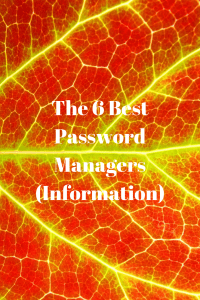 Best Password Managers will provide you with 6 password managers to manage your passwords.
Passwords, no matter how unique and different they may be, it can be very difficult to remember each of them, and yet if you use very basic passwords such as your date of birth or the name of the street where you grew up, it is possible for hackers to get to know this data and steal your accounts.
For this reason, it is a much better option to obtain a password web protector. So here I will recommend those that in my opinion are the best and safest password protectors.
1. "https://www.dashlane.com/"
With this manager, you can generate and store solid passwords, share files and accounts in addition to an identity panel that shows you your security status, and reports the possible improvements.
Even the dark web is routinely monitored in case some data has ended up in the wrong hands. It is available for all mobile and pc operating systems.
2. "https://keepersecurity.com/".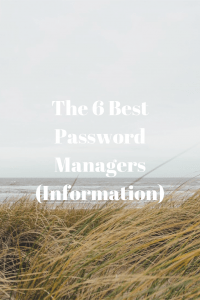 Next, we have another power in the branch of secure password protectors, this is known for the high security and encryption features.
The application has a secure vault protected in the cloud and a master key that only you can access.
It is available for mobile phones and computers, as well as for the most popular web browsers. If you are interested but are not sure about buying "https://keepersecurity.com/", you have a free 30-day trial.
3. "https://www.stickypassword.com/"
Here we have a powerful manager that includes military encryption and also a generator that will create solid passwords automatically. It also has double authentication, so you can use your fingerprint as authentication.
The master password will be visible only to you, never to servers or devices, so all your cards will be safe and your devices synchronized to make purchases easily.
In addition to its wide market that includes 16 web browsers, with each license sold they make a donation to save the manatees.
4. "https://www.remembear.com/"
Of the best options in the market, in addition to the catchy name, this manager keeps the security standards at a very high level that keeps each of your passwords safe. Encrypts passwords with a military level system and also includes the use of a master password. The data that it stores on its servers is protected by the Amazon Management of Passwords, and to rely less on https, the company adds an extra layer of encryption or transport layer.
You can obtain the application on any mobile device and as an extension in the 3 main web browsers.
5. "https://www.lastpass.com/"
If we talk about precursors this is as far as we can go, since it is one of the considered founders of password security.
The quality of this service ensures that even "https://www.lastpass.com/" will not be able to access your master key or other keys, everything will be encrypted on your device.
With its long generated and secure passwords for each of your accounts, remembering your passwords will be a thing of the past as it maintains an autocomplete function that does it for you.
And not only that but also fill in specific payment information when making purchases over the network.
Your system is available in most web browsers and on all cellular devices.
6. "https://www.intuitivepassword.com/"
As far as network security is concerned, this company breaks down many barriers, with its antivirus program that keeps a constant update.
Each data is stored through several layers, so accessing your database is strictly controlled by the application.
The company maintains real-time anti-malware and DDos protection.
They also do not keep your passwords in simple text, but instead, use a unique salt system for the credentials that are kept between masks.
And it also has a two-factor authentication algorithm. Your password algorithm is only through SMS and in real-time.
If you are interested in this app it is available on all computers, mobile devices, and tablets.
Conclusion
Check out best cheap home security cameras on Amazon
Risking your passwords is one of the worst things you can do if you care about your social media accounts or if there is a card displayed on your devices, especially if you shop frequently and if you keep the option to remember passwords in your browser. So choose any of these password managers and protect yourself now.