The security camera system buying guide will give you 10 things to consider when buying security cameras. Security camera systems are essential. They help in keeping your business, home, and families safe. And these systems exist in different forms and features.
Their prices also vary a lot. Therefore, when looking for one, it is essential that you be very keen. You should go for exactly what you are looking for.
However, deciding on one can sometimes be a hard task, this is because of the varieties of cameras available, and that is why this article is written, to help you figure out how you can get the best security camera system that suits all your needs and budget.
Check out Best security camera system wireless on Amazon
Getting security cameras is a good idea because it can help you to protect your properties easily.
Here are 10 things to look for a security camera system buying guide.

1. Video quality
The more definition you have in your video, the more it is easier to identify the evildoers or any other suspicious activity.
However, getting such security camera systems is expensive, but it is not as expensive as having burglars break into your property without you knowing. So investing in this is worth it, it ensures useful details and can also be very helpful for the authorities.
2. Field view
This is the area and angle which the lens can record. The field of view of many cameras ranges between 90 degrees to 140 degrees. You should go for cameras with a larger field of view in order to get a better view of your entire vicinity.
Even though they are expensive, they will also save you the money that you could have used to buy more cameras.
You should, therefore, ensure that the system you choose to go for can cover as much area as possible. A larger view ensures that there is no loophole entry for the burglar.
3. Capacity of storage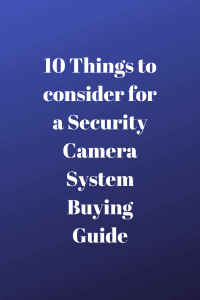 Most systems store their past footage in the cloud rather than in memory cards and hard drives.
Most camera systems come along with some free storage, and you can as well subscribe later in order to unlock the additional storage.
Depending on the tier of subscription you select, you can store the past footage for one week, a month or even more.
Tips: You should select Motion detection to save a lot of storage space.
Systems with motion detection have sensors that help them in detecting anything that moves.
If the system senses motion, you will be alerted by the camera through the connected smartphone app. And it can also zoom in on the movement to determine what it is.
4. Audio
Not all systems can record any type of audio. Few cameras allow for two way audio. Two-way audio gives you the opportunity to communicate with the person in the camera view.
And some security systems can set off a loud siren to scare away the intruders and animals.
These types of camera systems are very defensive, and you can as ell warn an intruder and scare him or her off.
5. Subscription and apps
Modern camera systems have apps that you can use on your phone and computer. With this app, you can easily live stream, share past footage, review and do a lot of things. However, connecting your camera to this app is sometimes a hard task.
6. Night vision
Many systems can provide better night vision. And this is very useful for people who want 24/7 monitoring.
You should go to systems that can show clearer movements and activities during the night. For people who live in rural areas where several animals are roaming around at night.
This can help you be sure of whatever is making noise and knocking things around your home.
7. Cost
There are varieties of these cameras in the market, and each of them comes with different features. And some of these features are the reason for it being expensive or cheap.
Therefore, before you buy one, you must consider your preferred features and prepare to pay for the cost, there is also installation cost as well as the cost of unlocking the feature of the system on a monthly basis.
8. Connectivity and network
Camera systems that use the home wifi in order to stream footage are way easier to install and are also more secure.
This is because, with this, thieves find it very difficult to disrupt the feed. Wifi connection can also give you the opportunity to view the footage on your phone, even when you are far from home.

Source of power: Considering the source of power, camera systems come in two categories. The wired power supply, as well as the inbuilt battery.
However, some come with both power supplies. The battery can be charged and also have a very long lifetime.
Some of these batteries last for many hours while some go up to several days. For cameras whose source of power is wire supply, they need less attention, and their operation is also hassle-free.
With a built-in battery, you do not need to worry about it because it cannot shut off in the case of power loss.
9. Weatherproof
Get a system that can allow you to monitor your business or home in rain, snow, heat or sleet.
You do not want to get an outdoor camera that cannot withstand dust or water; this can be very costly if ignored during the selection.
It is either the intruders might end up breaking into your property, or you will keep on replacing the camera without knowing where the problem is coming from.
So you must ensure that the weatherproof rating indicates that the camera you intend to buy can handle the common weather conditions in your area.
10. Mobile control remote
This is very important especially when you are away from your business or home and still need to have access to the footages.
Check out Best security camera system wireless on Amazon
Types of cameras: Camera systems exist in two types, the outdoor cameras, and the indoor cameras.
Indoor is designed to be used inside your home or company while outdoors, they are supposed to be mounted outside, and that is why it is important that you always a weatherproof outdoor camera.
Check out best cheap home security cameras on Amazon
With this guideline, choosing the right camera systems for your needs should be very easy.
It is advisable that you go for what you can afford and advance later when you have enough money.